Electric scooters are small, light, and often effortless to carry around, offering riders a fun way to cover short distances quickly. However, e-scooters with poor manufacturing practices can be a safety hazard. Luckily, there are plenty of solid-built ones, and best of all, many of these e-scooters offer good value for money.
TurboAnt has a variety of electric scooter models ranging from entry-level to advanced. The M10 Lite and the M10 are two entry-level electric scooters that are popular for their portability and practicality. The M10 Lite is ideal for first-timers and riders who are into leisure rides, while the M10 is loved for its light weight (29.8 lbs, making it TurboAnt's lightest model). In this article, we will present these two entry-level electric scooters and help you decide which one suits you best.
TurboAnt M10 Lite Video
TurboAnt M10 Video
Part 1. TurboAnt M10 Lite Review
1.1 TurboAnt M10 Lite - Speed & Range
As TurboAnt's leading entry-level model in 2023, the M10 Lite offers a moderate top speed of 16 mph and a decent maximum range of 15.5 miles. This user-friendly top speed allows travel at a more comfortable pace and satisfies most riding needs. What's more, riders can fulfill all their essential tasks on a single charge; from a morning commute to an afternoon cafe visit, to a night rendezvous.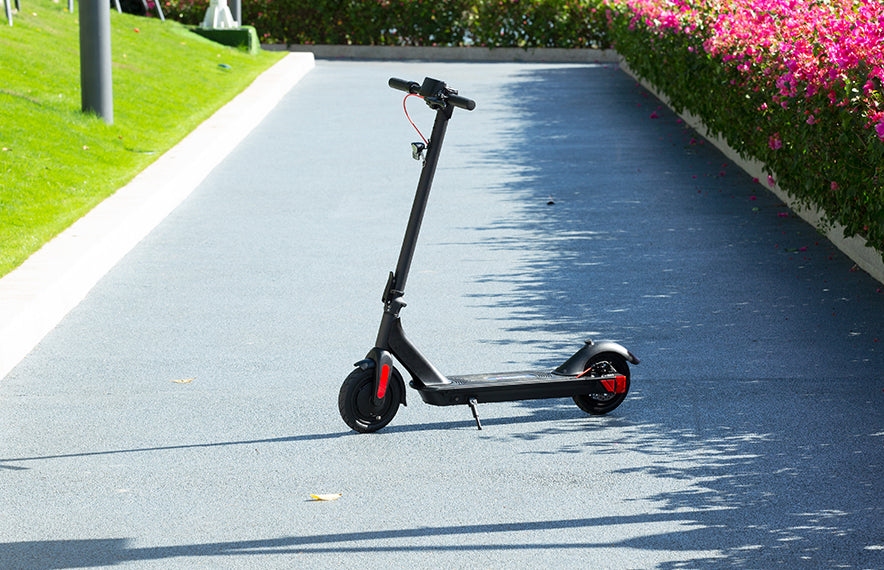 1.2 TurboAnt M10 Lite - Riding Features
Although the M10 Lite is defined as an "entry-level" e-scooter, it is just as well equipped as another medium- and advanced-level e-scooters. While M10 Lite also has a 350 W motor, it is located in the front, unlike the M10. The compact M10 Lite can also carry loads of up to 220 lbs and is able to climb hills of up to 15%. Moreover, it is water/dust-resistant and has an IP54 rating. Being 6.6 Ah, its battery capacity is lower than that of the M10. However, this leads to shorter charging times of only 4-5 hours. It has one final feature that makes it particularly beloved by many: it has a USB port for phone charging! At a reasonable price point of just under $400, this first-timer-friendly M10 Lite also earns the title of "the best-value-for-money" model.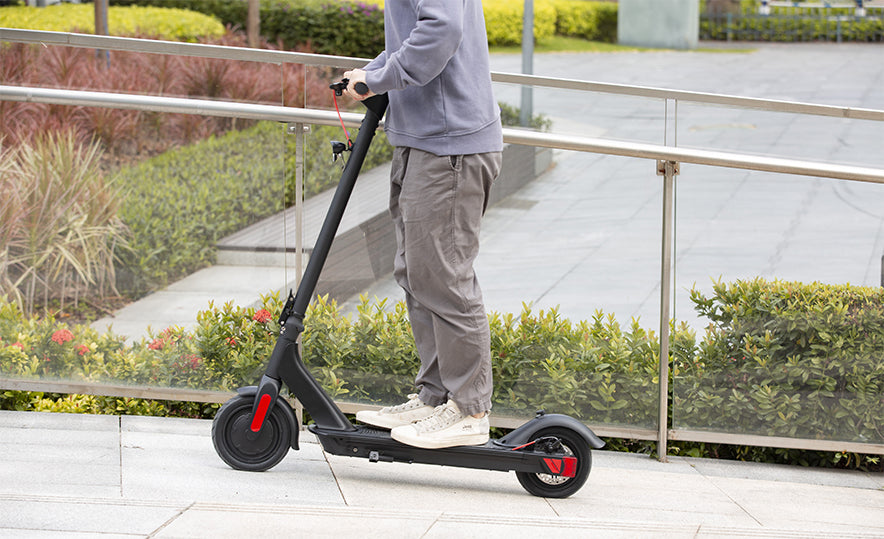 1.3 TurboAnt M10 Lite - Highlights
The M10 Lite inherits the overall compact and sleek design of the M10, but you will also find many details that make the overall riding experience even better. The M10 Lite has a USB phone charging port, which means that its long-lasting battery not only keeps the scooter running but also keeps your cell phone alive when you need it most. The deck has been made wider with an anti-skid coating so that you can stand on it both comfortably and safely.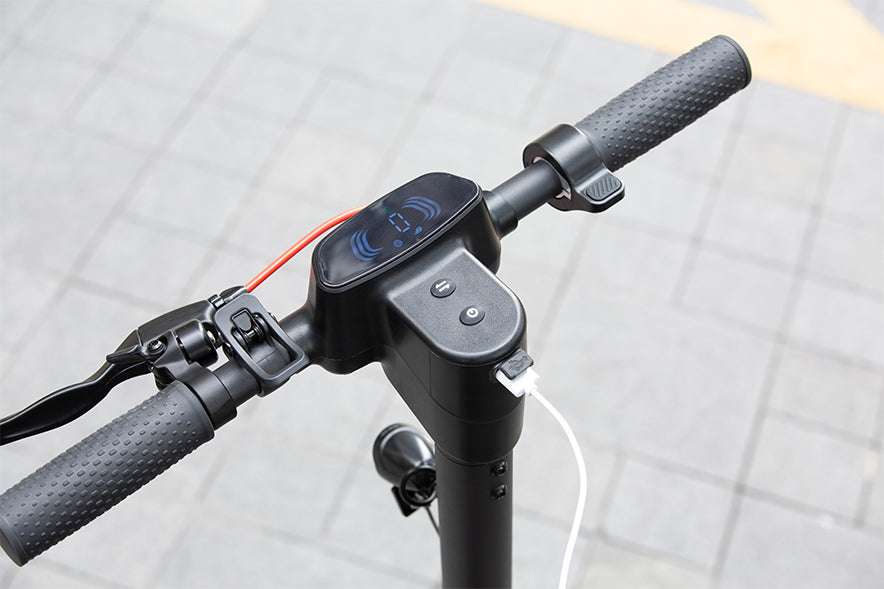 Part 2. TurboAnt M10 Review
2.1 TurboAnt M10 - Speed & Range
The M10 lightweight electric scooter for adults has a top speed of 20 mph and a maximum range of 18 miles. It is the perfect speed to beat the heavy traffic and get to work on time, even after a quick stop at your favorite coffee shop. What's more, its 18-mile range satisfies most riding needs: a commute to work, a visit to a nearby convenience store, or a meeting a few minutes away.
2.2 TurboAnt M10 - Riding Features
This electric scooter for transportation is powered by a 350 W rear hub motor which enables it to carry loads of up to 220 lb and climb surfaces at angles of up to 15%. And thanks to its IP54 rating, this portable scooter for new riders can be relied on to avoid infiltration from water splashes or dust. The best part? In addition to its solid range and speed, the M10's 7.5 Ah battery requires only 5 hours for a full charge! Wherever you ride it, the M10's 10-inch pneumatic tires absorb shocks to provide a comfortable riding experience you will love. If you are on a budget but want to make sure the scooter you buy is both practical and built to the highest quality standards, you can't go wrong by choosing the TurboAnt M10 lightweight electric scooter for adults.
2.3 TurboAnt M10 - Highlights
You probably need no more description of its compact design from me because it's quite obvious. But what I do want to talk about is the M10's curved handlebars which measure 17.7 inches in width and are covered by a rubber grip. This makes it comfortable to hold, even in cold weather, and it gives great control over the steering column. This M10 is not like the majority of scooters that have a press-down throttle. You just need to slightly pull on the throttle lever to get the scooter going. This makes it easy on your hands, especially if you ride it for a long time.
Part 3. TurboAnt M10 Lite vs TurboAnt M10 Specification Summary
Model

M10

M10 Lite

Motor

350 W Rear hub motor

350W Front hub motor

Maximum Range

18 miles (29 km)

15.5 miles(25 km)

Top Speed

20 mph (32 km/h)

16mph(25 km/h)

Load Capacity

220 lb (100 kg)

220 lb (100 kg)

Climb Ability

15%

15%

Tire

10-inch pneumatic

8.5-inch pneumatic tire

USB Phone Charge Port

No

Yes

Battery Capacity

7.5 Ah (270 Wh)

6.6Ah (238Wh)

Battery Mount

Fixed under the deck

Fixed under the deck

Charging Time

5 hours

4-5hours

Braking System

Disc & electronic brake

Disc & electronic brake

Net Weight

29.8 lb (13.5 kg)

30.86lb (14kg)

Folded Dimensions

42.1 × 17.7 × 15.5 in

(1070 × 450 × 393 mm)

44.49 × 19.69 × 20.48 in
(1130 × 500 × 520 mm)

Unfolded Dimensions

42.1 × 17.7 × 46.1 in

(1070 × 450 × 1170 mm)

44.49 × 19.69 × 45.87 in
(1130 × 500 × 1165 mm )

Water Resistance

IP54

IP54

Price
Conclusion
In conclusion, both the M10 and the M10 Lite make great alternatives to crowded public transportation. They boast many benefits, from saving you time to improving your strength. The M10 saves you time while the M10 Lite also saves you money, thanks to its great price point. Why not start planning your e-scooter commute for work now, or imagine gliding on the streets on a sunny Saturday afternoon?