Fat tire electric scooters have become very popular in today's life. The larger contact area of electric scooter fat tires increases stability and grip. Fat tire electric scooters are fun to use and they remain stable even on wet, snowy surfaces, or sandy roads.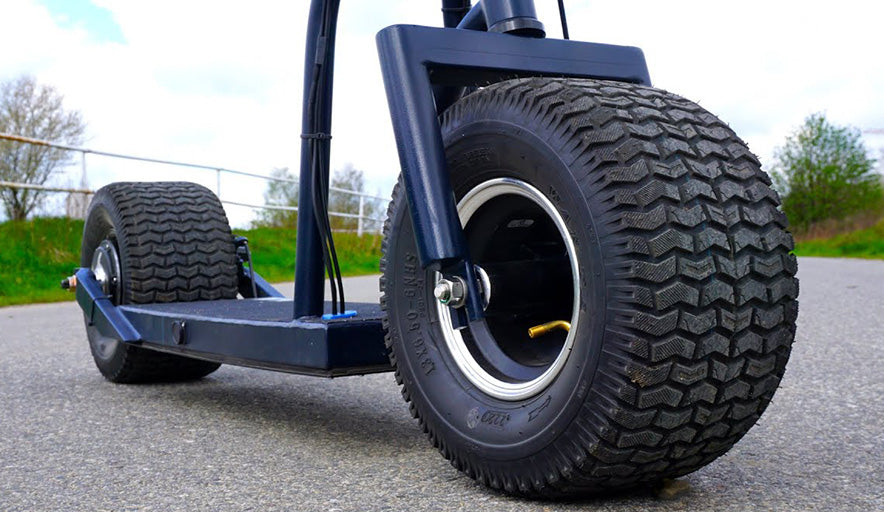 Part 1. How to Choose a Fat Tire Electric Scooter?
Before getting a electric fat tire scooter, there are a number of things you need to look out for and they include the following:
Top speed
It is advisable to always check the top speed on the local regulations. Electric scooters with the best performance usually have a top speed of 17 mph to 30 mph depending on the rider's weight and the battery status. For beginners, it is good to use a lower speed until they gain enough experience to use the top speed.
Motor
If you want to have a smooth ride then go for a fat tire electric scooter that has a motor of up to 1000 watts. However, if you go for a scooter with a lower-watt motor, the scooter will travel at lower speeds which may not be favorable especially if you are in a rush.
Battery
Before you get your electric fat tire scooter, you should check the battery that the scooter uses, the range that the battery can cover in a single charge and the time the battery takes to charge. Most electric scooters are best for short-distance rides while others are for longer rides. A good electric fat tire scooter should be able to meet most or even all your desired needs. An original fat tire battery lasts 6 to 8 hours and a battery that is not powerful has short battery life.
Fat tire electric scooters are not designed for rapid charging therefore if you are a new rider you need to consider a charging time of at least 6 hours. Having a powerful original battery is very important to power the motor and the scooter therefore go for an electric scooter with a battery voltage of 25-40 V or more.
Portability and Foldability
Some electric fat tire scooters lack a folding mechanism and this makes them harder to transport. Storing them may require a lot of space. If you would like a light and foldable electric scooter, then go for normal tire electric scooters.
The Size of the Scooter
When making a purchase for an electric scooter first consider the size of the scooter. If you have an average height, then a smaller or medium-sized electric scooter is a good choice. Taller riders can go for a large frame e-scooter to ride more comfortably. You should also remember that an electric fat tire scooter should be capable of handling your weight and height at the same time.
Riding Quality
When it comes to performance, some electric scooters are poor. If you haven't inquired much about the electric scooter you purchased you might end up getting disappointed with the riding quality of the scooter. Therefore before you get your electric scooter check on the key factors first. Key factors to check on include the scooter's motor output.
The Size of the Wheel
Always check on the size of your wheel because smaller wheels are not suitable for use on rough and uneven roads. You can also check the dimensions of the scooter just to make sure they are the best suitable for the roads you want to ride on.
Tire
Tires that are filled with air allow for a more comfortable ride than those solid rubber tires. But try to prepare something that can fix punctures because they may have flat tire issues.
Safety
Analyzing the safety features of your fat tire electric scooter is very crucial. You need to ensure that the brakes on the scooter are working normally. Also, check if the scooter has the LED lights powerful enough for the safety not only of yours but also of pedestrians. Other scooters also come with a helmet. A good electric fat tire scooter also requires an LCD screen that shows the battery percentage, the speed, and the riders' mode.
Price
Fat tire electric scooters are very expensive but they have great performance and are durable. With a normal tire electric scooter, they are very affordable. Therefore you need to choose an electric scooter that you can afford according to your preference.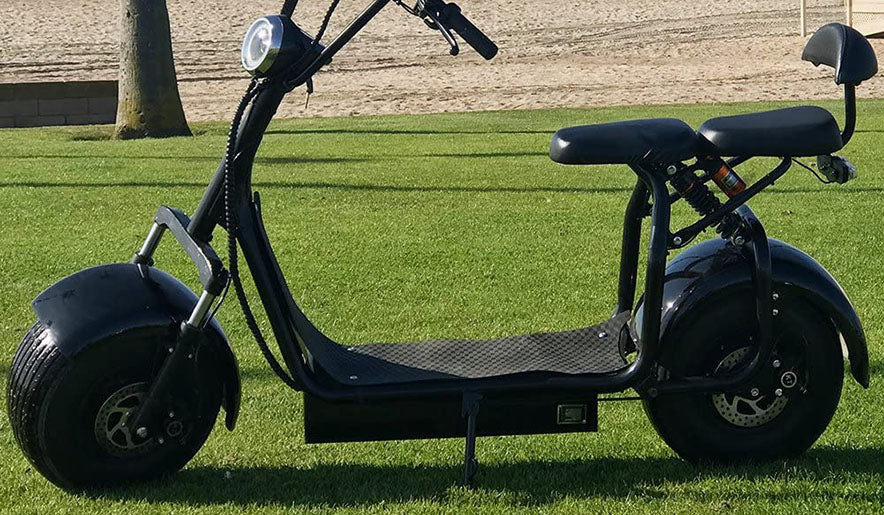 Part 2. What's The Fat Tire Electric Scooter for?
Sightseeing

– If you enjoy the outdoors then a fat tire electric scooter should be a good option. That is because they provide a balanced and comfortable ride.

Commuting –

Commuting can be tricky more so if it includes a combination of long walks and using public transport like trains or buses. With a fat tire e-scooter, you no longer have to walk, plus your ride in public transport will not be any trouble.

Fun

– Fat tire electric scooters can be fun. There are various kinds of sports that include fat tire electric scooters. There is always something to do with an electric fat tire scooter.

Tourism

– Adventure is one of the things that any tourist fancy. With an electric fat tire scooter, they get to see more and save much time without compromising their comfort.

Transport that is eco-friendly

- Fat tire electric scooters do not emit dangerous gases to the environment which makes them a scooter of the future.

Traveling while sitting –

Most scooters with fat tires are designed with seats, removable or inbuilt. That is because they can support much weight.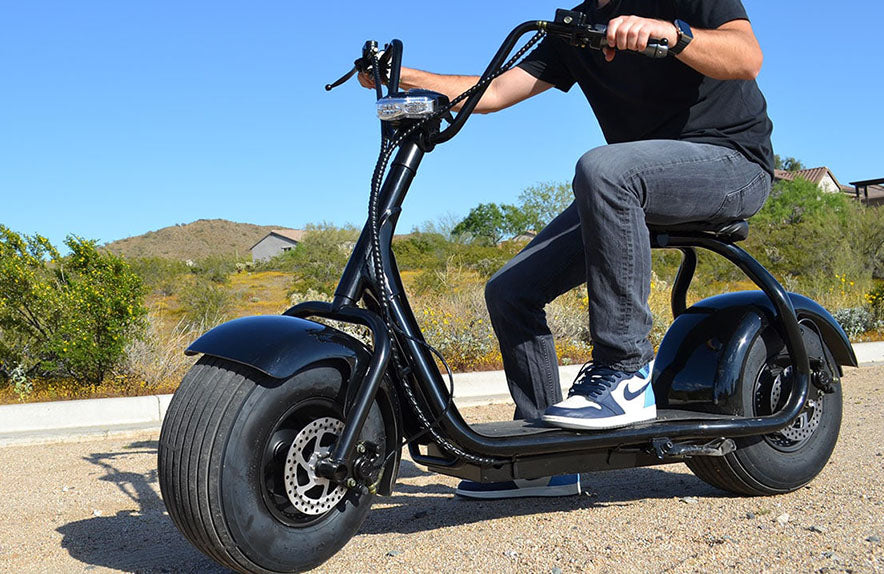 Part 3. How Much is a Fat Tire Electric Scooter?
Fat tires are considered a bit more expensive than normal tire electric scooters. The price of one fat tire scooter ranges between $650 and $2,800 depending on the level of battery capacity. This means that if the battery capacity is higher, the price is likely to be higher and if the battery capacity is lower then the price will be less expensive.
Part 4. Which is Better, Normal Tire or Fat Tire Electric Scooter?
Fat tire electric scooters are electric scooters that allow their riders to seat while riding, so they are more comfortable, steady and safe. But normal electric scooters are more affordable and also meet the daily demands.
Normal Tire vs Fat Tire Electric Scooters
| | |
| --- | --- |
| Fat tire electric scooter | Normal tire electric scooter |
| Riders can sit while riding | Normal tire electric scooters do not require parking. The owner can carry the scooters anywhere. |
| Fat tires can get through small potholes and you can also use them on off-paved roads. | Regular size tire electric scooter is impossible to use on off-paved roads. |
| Fat tire electric scooters have regulations that restrict them from being used on sidewalks. | Normal size tire electric scooters also have street legal requirements. |
| They can be used for leisure, entertainment and for getting out of traffic. | They are also great for entertainment, leisure and for escaping traffic. |
| They usually feature a long-lasting battery. | They are smaller in size and are effective for commuters for having a lighter weight and usually a folding mechanism. |
| They have a maximum speed limit therefore they are slower than normal tire e-scooters. | They also have a maximum speed limit. |
| Fat tire electric scooters are much more expensive. | Normal tire electric scooters are affordable. |
Regardless of whether an electric scooter has fat or normal tires, quality is all that matters especially if you are looking for a scooter to use regularly like on a daily basis. You can consider a normal tire electric scooter like the TurboAnt X7 Pro. This e-scooter has impressive features for convenience like: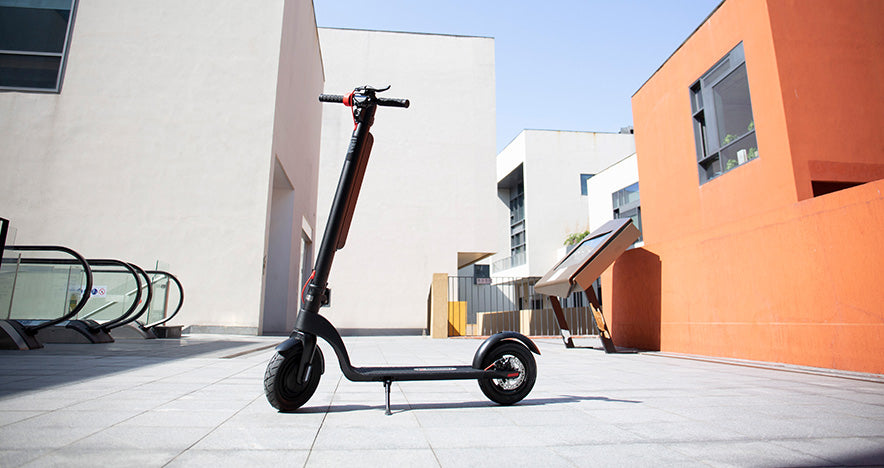 Removable battery
The TurboAnt X7 Pro features a 10 Ah Li-ion removable battery that goes up to a ride of 30 miles before recharging and lasts up to 500 life cycles.
Lightweight and foldable
The electric scooter is 33 lb. (15 kg) and has a quick folding mechanism which makes it easier to fold, carry and store when not in use.
Speed and range
The TurboAnt X7 Pro has a powerful 350 W motor with a top speed of 20 mph and a maximum range of 30 miles (48 km). The electric scooter also supports 3 riding modes: the ECO mode has a top speed of 6 mph, Comfort mode at 9 mph, and Sport mode at 20 mph.
Triple braking system
The TurboAnt X7 Pro electric scooter features a triple braking system that includes an electric brake, a rear disc brake, and a foot brake. This responsive braking system is crucial, especially for beginners. The triple braking system is activated by the hand brake lever, allowing an effective braking distance of 16.4 feet for maximum riding safety.
10-inch pneumatic tires
The electric scooter comes with 10-inch tires that are durable on most urban roads while the rider a comfortable and smooth ride.
Conclusion
Electric scooters are everyday products that can help move from one point to another. Scooters are also good for doing a bit of exercise especially if you spend most of your time sitting in a chair. There are different scooters you can choose from the two types of e-scooters, which are fat tires electric scooters and normal tire electric scooters. Keep reading to find which type of e-scooter suits you best.