Many people believe that scooters are not designed for off-road riding. Because when they think of electric scooters, the first thing that comes to mind is small, thin and flimsy-looking scooters. What they don't know, however, is that there is a powerful and durable off-road electric scooter designed to tackle rough roads, also known as all-terrain scooters, that can be ridden on different terrains.
Generally, there are three types of terrain suitable for e-scooter riding, including relatively flat urban terrain. There are also uneven terrains, such as paths in the forest, and finally rough terrain. The all-terrain electric scooter is an electric scooter designed for off road riding.
Part 1. What Are The Best Off Road Electric Scooters for Adults?
What is an off-road electric scooter?
Off-road electric scooters offer higher motor power and larger battery capacity, allowing them to traverse a variety of roads, paths and terrains. Off-road electric scooters are a smart choice for people traveling in hilly areas, communities with rough roads, or inclement weather. Off-road electric scooters last longer than regular commuter electric scooters due to their sturdy appearance and better performance.
The best off-road scooters will have a heavy-duty, preferably steel alloy frame, a high-tech dual brake system, a powerful motor, a large capacity battery, and a shock or suspension system. The big thread tires are equally good enough to handle difficult terrains such as road terrain and off-road trails.
The Summary for 5 Best Off Road Electric Scooters
Model

INOKIM OXO

Dualtron Ultra 2

Kaabo Mantis Pro

NANROBOT D4+

Apollo Ghost

Top speed

40 mph

55 mph

40 mph

40 mph

34 mph

Range

68 miles

87 miles

45 miles

40 miles

39 miles

Drive

2 x 1000 W

2 x 6640 W

2 x 2000 W

2 x 1000 W

2 x 1600 W

Tires

10-inch pneumatic

11-inch tubeless pneumatic

10-inch pneumatic

10-inch off-road tires

10-inch pneumatic

Brakes

Front and rear hydraulic disc brakes

Front and rear disk brakes

Fully hydraulic disc brakes

Antilock braking system

Dual disc brakes

Dual disc brakes

Battery

60 V 26 Ah

72 V 35 Ah

60 V 24.5 Ah

52 V 23 Ah

52 V 18.2 Ah

Light

Integral LED lights

Stem lighting

Dual LED headlight and taillight

Brake light

Front and rear lights

Front and rear lights

Front and rear lights

Display

LCD display and functional illumination

Mini motors EYE3 LCD display

LED display

Digital LCD display

LED display

Weight

73.85 lb.

88 lb.

65 lb.

67 lb.

64 lb.

Dimension

48 x 23.2 x 51.2 inches

51 x 13 x 23 inches

50 x 48 x 23 inches

56.3 x 27.6 x 53.5 inches

51 x 10 x 50 inches

Folded dimension

48 x 23.2 x 21.3 inches

47.6 x 13 x 21.3 inches

50 x 24 x 19 inches

47 x 12 x 21 inches

51 x 15 x21 inches

Official price

$2,850

$3,990

$2,499

$1,428

$1,499
The INOKIM OXO has the perfect design for an off road electric scooter. Added to its advanced suspension system, this electric scooter for adult is quite a performer. The large deck and adjustable suspension play a big part in quality and safety on terrains.
PROS

Excellent build & functionality
Advanced suspension
Designed for comfort
CONS

Handlebars not foldable
Heavyweight
Slippery deck due to lack of grip tape
When it comes to design, the Dualtron Ultra 2 is an attractive all terrain electric scooter for adults. The deck is just the right size and you can easily adjust the height of the handlebar. The handles and deck have extra grip for safety. This electric scooter for heavy adults is also a top performer and can reach up to speeds of 55 mph within a short time thanks to its dual-motor technology.
PROS

Fast and powerful
Built for heavy duty
Can handle terrain confidently
CONS

Suspension made from rubber
Not lightweight
The Kaboo Mantis Pro gets its name from the known praying mantis. That is due to its front suspension system that resembles the mantis. Capable of doing up to 40 mph, it is a high performer and a safe scooter for off roads thanks to its advanced suspension system.
PROS

Excellent for on/off road
Multiple gear settings
Hydraulic braking system
CONS

Handlebars don't fold
Not water-resistant
The NANROBOT D4 + has one of the best designs for an electric off road scooter. That is because it has a collapsible handlebar. It is also capable of attaining a top speed of 40 mph on a fully charged battery. It is built from a strong aluminum alloy and its high-quality suspension will make your ride on the terrain more comfortable.
PROS

Fair 330 lb. weight capacity
Easy to learn and use for anyone
Efficient double-braking system
All-wheel drive
CONS
Considered to be one of the most powerful off road electric scooters, the Apollo Ghost all terrain electric scooter is designed for high performance on any kind of terrain. Capable of hitting 34 mph at top speed, this is scooter has a turgid built with a wider deck for a more comfortable ride.
PROS

Fast acceleration
Instant braking
Foldable handlebars
Optional to use or not use seat
CONS

Deck covering doesn't offer sufficient grip in wet conditions
Dual suspension is under-dumped
Part 2. Why Should You Buy an Off-road Electric Scooter?
High Performance
All off-road electric scooters offer better specifications compared to normal electric scooters. They have larger battery capacity and stronger power output. This means riders never have to worry about draining the battery and riding at low speeds on the go.
Suitable for Any Terrain
The off-road electric scooter is an all-terrain electric scooter, which means it can withstand all kinds of terrain, including dirt, grass, gravel, dust, sand, pebbles, pebbles, mud, and puddles. Of course, ride stability and comfort will vary depending on the scooter's tire configuration, hydraulics, and overall build quality, but most true off-road scooters will provide a relatively smooth ride on any type of terrain. In addition to that, off-road electric scooters can climb steep slopes.
Durable to Use
In order to adapt to different environments, off-road electric scooters are made of high-quality and durable materials. Also, most off-road electric scooters offer better build quality. Due to these high-quality materials, off-road electric scooters are more expensive than regular scooters. But a reliable electric scooter that lasts longer can save you even more extra money.
Part 3. How to Choose an Off-Road Electric Scooter
For an e-scooter to perform well on rough terrain and off-road riding, it first has to be a good-quality scooter that is durable to use, so build quality is essential. Tires and suspension are a close second, as having both big, wide tires and great suspension is critical for stability when riding on uneven ground. Motor power is also very important, but probably more important than that is having two motors instead of one, as they will provide more torque, which is crucial for off-roading. It is also very important to have good strong brakes, and good ingress protection can also come in handy.
The following are specific selection factors to consider:
Motor power
Motor power is important for off-road riding, as the scooter needs to have a lot of torque to handle uneven terrain. Generally, the more powerful the motor, the better off-road driving. You should try to get a scooter with a real power level of at least 2000 watts between the two motors, preferably more than 3000 watts. Remember, this is the actual power level, not the peak power level, and off-road models tend to top 4000 watts.
Battery capacity
Removable lithium batteries are standard on most electric scooters, but they have a wide range of charging times. Many models have batteries that can travel up to 15 miles before needing a charge, but some models have more powerful batteries that can travel up to 65 miles without a charge.
Larger batteries provide a longer range. If speed and range are important to you, then make sure you choose the right power and battery for your off-road electric scooter.
Design
The design usually is the first thing that will attract the eyes. You however need to understand the design that best suits you. For example, there are electric scooters with seats and some without seats. Other design features of an off road electric scooter can include the frame, suspension, and fenders.
Tires
The best type of tires for off-road scooters are off-road tires, which are large, wide, and deep in pattern, suitable for off-road riding and less prone to blowouts. They are usually 11 inches or larger in diameter. Sometimes they can be around 10 inches, but they are rarely smaller than that. They will also be wider, typically around 3 inches or more wide, which will provide much-needed balance for the most extreme off-road riding.
Suspension
Off-road trails can be rough, taking a toll on your wrists and knees if your scooter lacks proper suspension. Shock absorbers live up to their name, dispersing vibrations from uneven surfaces. They allow you to smoothly navigate bumps and terrain changes. For diverse terrains, opt for an electric scooter with an adjustable suspension. This feature enables you to fine-tune damping and shock absorption according to your needs.
Brakes
Brakes come in handy whenever one needs to stop. As for electric off road scooters, brakes are an important factor to consider. Anti-lock brakes are actually a must-have for any scooter used for serious hill climbing and off-road riding but look for dual braking systems of the anti-lock variety in addition to other braking technologies.
Weight and load capacity
Due to the demands of rough terrain riding, off-road scooters have to be very powerful, and they also have to be big and heavy. This means that, in the vast majority of cases, off-road scooters have little portability, and carrying them around on the subway is almost certainly impossible.
Most electric scooters are limited to around 250 pounds, which is more than enough for most adults. One of the best ways to take care of your electric scooter is by ensuring that you do not overload it. Since they use a motor, overloading off-road electric scooters can cause the motor to wear out quickly and affect the life of the scooter.
Safety and comfort
You will always want to feel safe and comfortable when riding your electric on a terrain. Since the ride is expected to be bumpy, you will want to make sure that you have your safety gear on not forgetting the pads and helmet. However, electric off road scooters come with pneumatic tires to act as shock absorbers during a bumpy ride. Some have advanced suspension systems depending on their design.
Part 5. How Much is an Off-road Scooter?
High-end off-road scooters typically cost over $2,000. They will have the great build quality, dual powerful engines, large off-road tires, great suspension, strong brakes, and good ingress protection, all of which tend to add up and add to the cost of the scooter. That said, even for around $800-$1000, you can still find scooters suitable for off-road riding, and of course, you can't expect them to have the same level of off-road performance and experience as the best off-road models.
Part 6. When to Buy an Off-road Electric Scooter for Daily Use?
There are basically three valid scenarios for buying off-road electric scooters:
1. You often need to cover some kind of rough terrain (this includes poor road infrastructure)
2. You enjoy adventure riding in more natural environments, including dirt roads, hiking trails, etc.
3. You just love powerful, extremely durable scooters that can handle anything
If you fit any of them, the off-road electric scooter will be perfect for you and you won't regret your decision.
However, if you have no special requirements or you are looking for a foldable electric scooter for daily commuting, the TurboAnt electric scooters for adults are good partners, like TurboAnt X7 Max. That is because it is designed to handle the task and even comes with a spare battery just in case. It is also a high performer, powered by a 350 W motor. The X7 Max is capable of handling terrains thanks to its 10-inch pneumatic tires that act as shock absorbers. Besides, the TurboAnt X7 Max has a dual braking system that is efficient and more effective. This e-scooter is also light in weight meaning that you can easily fold and carry it around on the bus and even keep it in your office without eating too much space. It even has three-speed modes namely, Eco (6 mph), Comfort (9 mph), and Sport modes which is its top speed (20 mph). The TurboAnt X7 Max has a maximum range of 32 miles, which is equivalent to 52 km.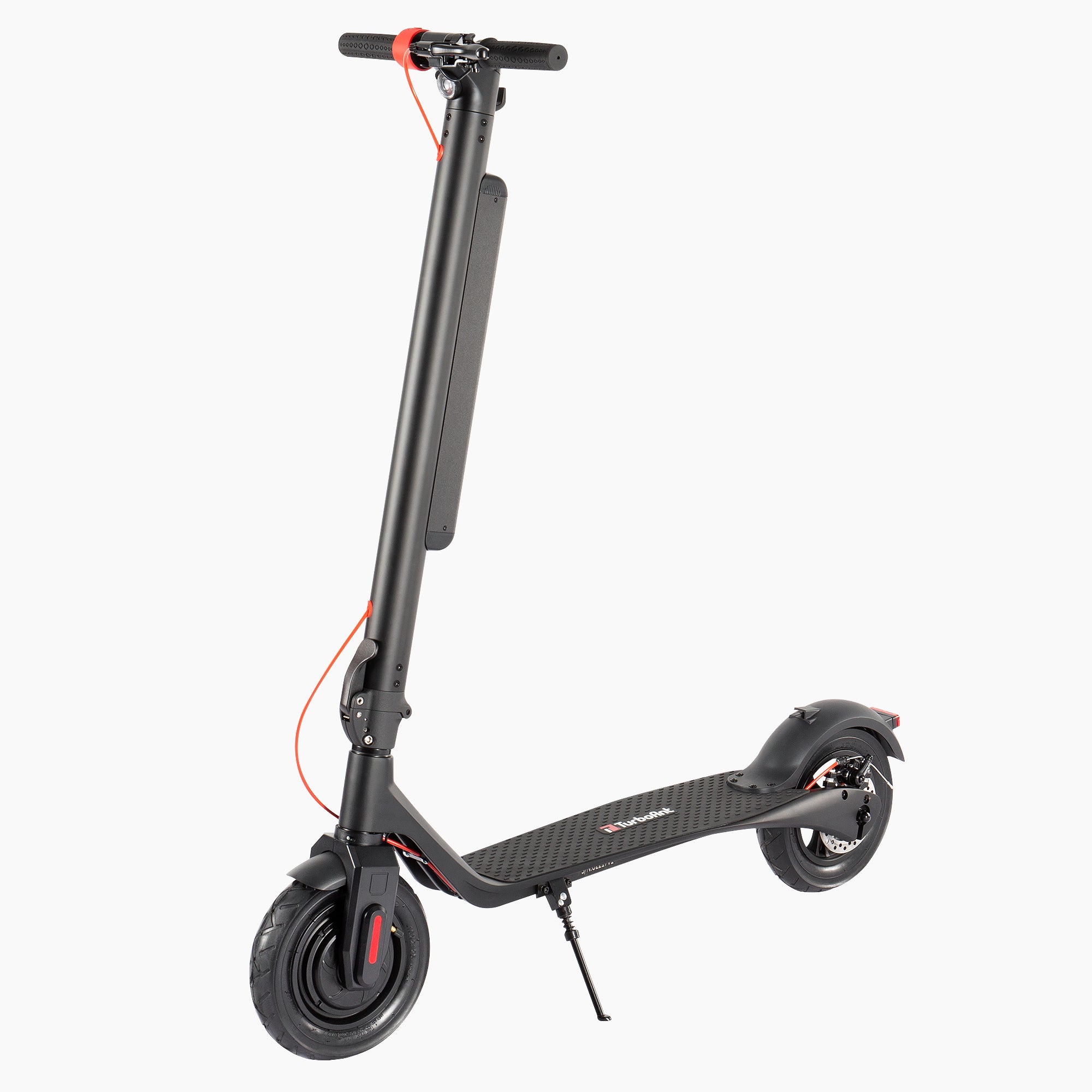 X7 Max Foldable Electric Scooter

High-capacity, detachable battery allows 32-mile maximum range and easy recharge.
Three-step portable folding design
Eco speed mode and cruise control
Braking system ensures maximum safety
Large 10-inch pneumatic tires
Learn More
Part 7. FAQs about Off-Road Electric Scooters
1. Are off-road electric scooters safe?
Electric scooters, including off-road models, are generally safe for transportation. However, due to increased horsepower and top speeds, off-road scooters can pose more risk if not ridden responsibly. Prioritize safety features like high-weight capacities, non-pneumatic tires, advanced braking systems, and shock absorbers for a secure and comfortable ride, even on unpaved terrain.
2. What's the best off-road electric scooter?
The ideal off-road scooter boasts a sturdy steel alloy frame, advanced double-braking system, minimum 250W motor, high-capacity battery, and effective shock absorption or suspension. Equipped with large-tread tires, it should effortlessly handle both road and rugged off-road trails.
3. Can I ride an electric off-road scooter in the rain?
While some scooters are labeled waterproof or water-resistant, assume all scooters are rain-sensitive unless explicitly stated by the manufacturer. Even with powerful motors and all-terrain tires, rain safety isn't guaranteed. Protect exposed mechanical parts and electronics from potential water damage.
4. Do off-road electric scooters for adults fold?
Pay attention to folded dimensions before purchase, as these robust scooters may be challenging to transport. Consider the range capability; you might ride to your off-road destination rather than transport. Keep the size in mind, whether fitting in your car or for riding convenience.
There are high chances that you will want to use your off road electric scooter as regularly as possible. For that reason, it is highly recommended that you go for a quality scooter that will serve you for longer and let you enjoy the excitement. If you want to ride for commuting and like a lightweight scooter, you can consider the TurboAnt X7 Max. Not only is strong enough to handle terrains without breaking down but it is also designed for safety during your rides. Its lightweight is ideal even if the battery runs out, you can easily carry it to your destination.