Introduction
The 2020 model of the electric scooter should have everything inside it. It should have some modern and high tech features in it that mark it as an advanced model. Constant healthy competitions are happening between the electric scooter manufactures. And more and more people are getting confused about what to choose. Here in this article, we will discuss one such pioneer electric scooter model and its special features. So keep on reading to get a trustworthy Hover-1 pioneer electric folding scooter review.
Overview of Hover-1 pioneer Electric Folding Scooter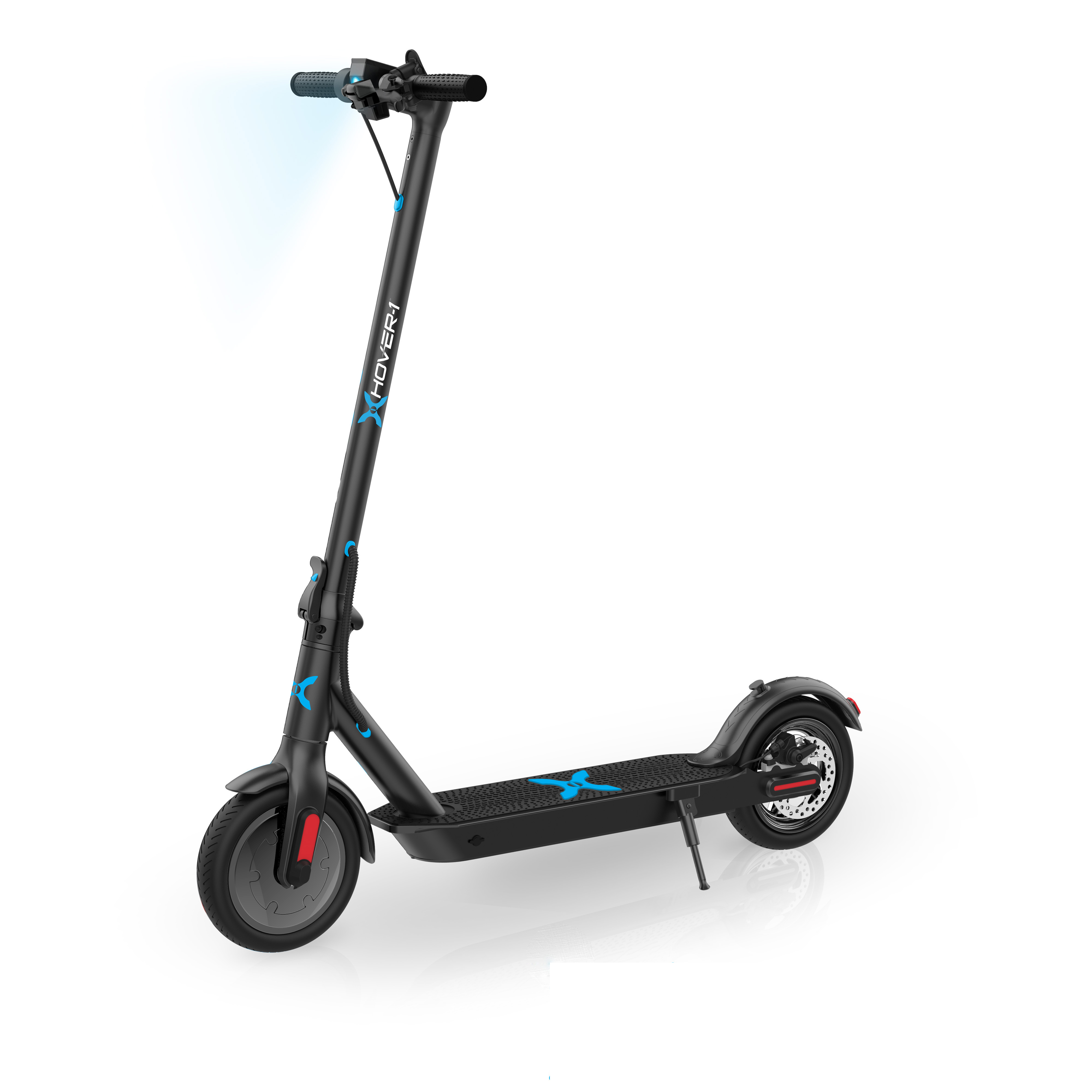 Hover-1 pioneer electric scooter comes in a glossy black color to mesmerize your eyes. And its air-filled tires are what you can wish for in a mini electric scooter. The air-filled tires are extremely shock absorbent and ideal to use in any rough terrain. Its LED headlight will support your ride even at nights. So you can drive without any worry even at night. The digital display is the most wanted modern feature that hover-1 pioneer electric folding scooter has. And with 264 lbs maximum weight support, any adult can easily ride on it. Let's dig deep into our hover-1 pioneer electric folding scooter review.
Hover-1 Pioneer Review: Key Features
The main features of hover-1 pioneer electric scooter are:
Super powerful motor- the 300-watt brushless motor will give you the ultimate power to accelerate your electric scooter. Your Hover-1 pioneer electric scooter will start in no time and make you feel the breeze.
Maximum speed- the Hover-1 pioneer electric scooter gives you 14 mph maximum speed. This is quite good and enough to make you attain your office on time.
Maximum distance- the company claims that Hover-1 pioneer electric folding scooter can cover the maximum distance of 16 miles in one full charge. But when you use it the mileage may go downwards. There no problem with the electric scooter for this. It mainly happens due to weight. The more lightweight you are the more mileage you can get. Also, the surface of the path you choose equally determines the distance your electric scooter can cover. In plain smooth roads, you will get much more mileage than rough hilly terrain.
30 cell lithium-ion battery- Hover-1 pioneer electric scooters got a 30 cell lithium-ion battery that can be fully charged in 2 to 3 hours to give you limitless riding.
LCD Display- the digital LCD screen gives you vital information like-
High-speed mode to indicate high-speed mode is activated.
Battery indicator, to show you the current battery level.
Speedometer to show you your current speed in MPH.
Headlight icon to show that the headlight is on.
The cruise control icon to show that the cruise control is on.
Easy-grip and comfortable standing- the handles are manufactured specially to make you hold it with comfort. Similarly, the wide and long deck makes you stand with ease.
Hover-1 Pioneer Review: Pros and Cons
Here are some advantages and disadvantages that you can face or feel while using hovel-1 pioneer electric folding scooter:
Pros
Air-filled tires give a smooth and effortless driving experience.
The bright headlight and taillight are very helpful during night rides.
The construction is sturdy and the frame is strong. It is easily foldable and light in weight for you to carry.
It glides like a scooter first before relying on power. So it does not need to be on to ride or a brake.
It is more like an authentic bicycle but in a modern mould. It has a bicycle bell, hand brake, and a kickstand to give you the feel of a bicycle.
Cons
You have to fill in the air frequently on the tires as it often gets flat.
The range of it is largely dependent on the weight of the rider. With more weight, the mileage gets shorter. Also, the surface of the road decides how much easier your battery will drain out.
Best Alternative to Hover-1 Pioneer: TURBOANT X7
Hover-1 pioneer electric scooter is powerful and all in one model. So if you search for an alternative of this model then the only name will come: TURBOANT X7. With its powerful motor speed and up to date features TURBOANT X7 can best compete with Hover-1 pioneer electric scooter.
Key Features:
Safety measures- the safety features are the primary plus point of TURBOANT X7. Some of the safety precautions are like-
The throttle will not activate unless you push the scooter a bit. This ensures that you don't mistakenly end up taking off.
TURBOANT X7 will not stop unless you are standing still. This removes the chances of your accidentally holding the power button, and thus, a sudden stop of the scooter.
Removable battery- you can detach and charge the battery alone anytime and anywhere you want. The 36 V battery pack with ultra-high 6.4 Ah capacity will take 4 hours to get fully charged. And once fully charged it can give you up to 16 miles smooth driving experience.
3 riding modes- you can choose your speed limit right from the LED screen in front of your TURBOANT X7 electric scooter. The adjustable speed limit is again a plus point in TURBOANT X7. Also, there is the cruise control mode just like in Hover-1 pioneer electric scooter.
Powerful motor- TURBOANT X7 comes with a powerful 350 W motor which is slightly more powerful than in Hover- 1 electric scooter (300 w). 20 mph speed of TURBOANT X7 is again a bonus. So you just need to push a button and this powerful electric scooter will make you fly.
Large tubeless tires- TURBOANT X2 tires are larger (8.5"/ 22cm) than any regular electric scooter. So, this one is suitable for any harsh or rough terrain just like the Hover-1.
Large deck size- TURBOANT X7 also has a long and wide deck so that you can stand comfortably without any worry of falling off. The position and size of the handlebar are perfect and does not insist you to bend. Even an adult with moderate height can stand straight while riding it.
Why it is the best alternative
TURBOANT X7 can be the best and only alternative of Hover-1 pioneer electric folding scooter. In the Hover-1 pioneer electric folding scooter review, we mentioned that it is more like a bicycle. Its functions are manual in most of the case. You have a bell, a stand, manual brakes, etc. But TURBOANT X7 is a high tech model. It has all the new-age features in it. You can change the gear, hold the brakes, and turn off or on the lights right from the digital display. So for a lot of youngsters, these technologies can more important. In power and speed, both of them are quite similar so you can choose any one of them. In looks and fashion too, they are quite similar. Both of them come in a classic black color with catchy graphics on it. So if you want an alternative of Hover-1 pioneer then TURBOANT X7 is the most appropriate name.
Conclusion
Hover-1 pioneer electric folding scooter review shows you the strength and durability of the model. Proper maintenance and care can give you effortless rides for years. And if you have a soft corner for bicycles then this will give you the feel of it. But if you want an alternative of Hover-1 pioneer with the same kind of strength and performance the nothing is better than TURBOANT X7.