Free Shipping
Technical Support
24-Month Warranty
Free shipping is currently available in the 48 contiguous states of the United States. Click here to learn more.
Order processing: within 5 days.
Product delivery: 5-7 business days.


TurboAnt provides its customers with lifetime technical support.
Email: support@turboant.com
Phone: +1 833 310 2205
This TurboAnt e-bike comes with a 24-Month limited warranty.
Click here to learn more.
Your City
Commuting Solution
With the best uphill-climbing performance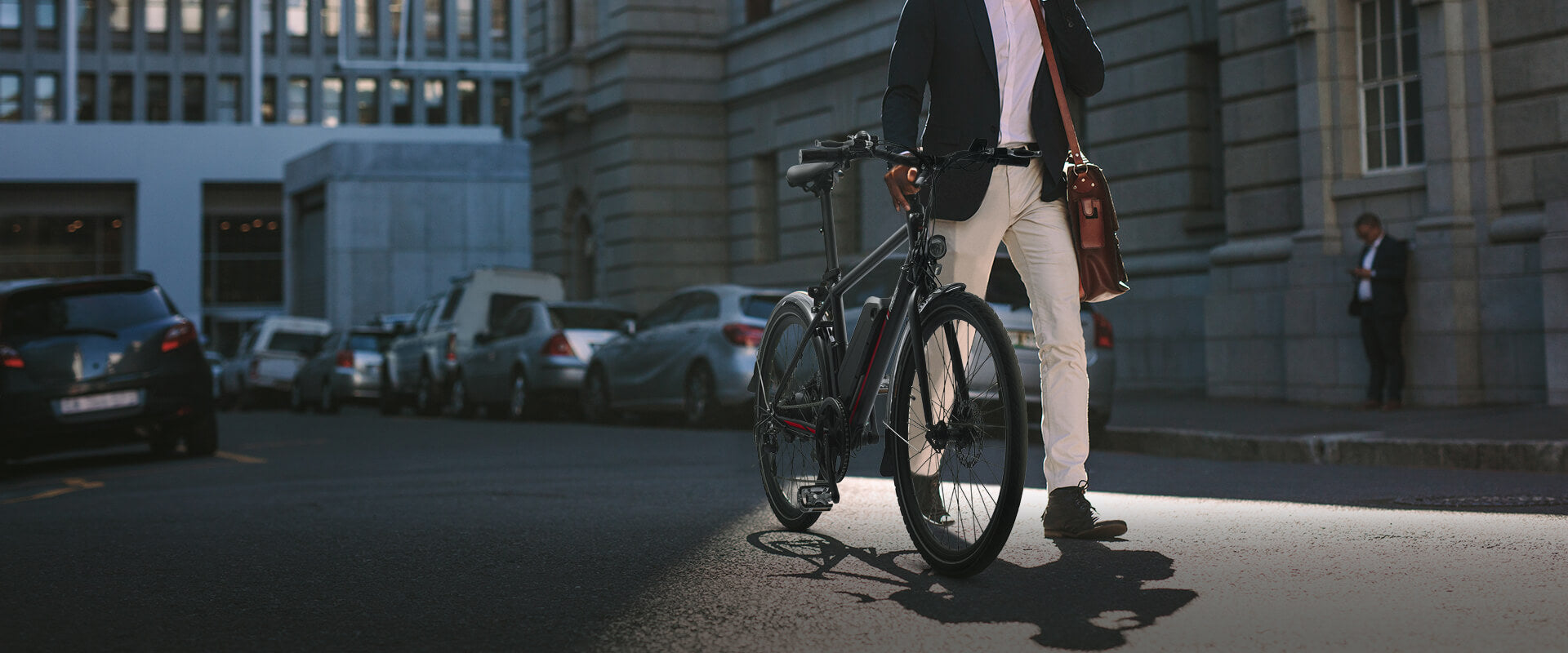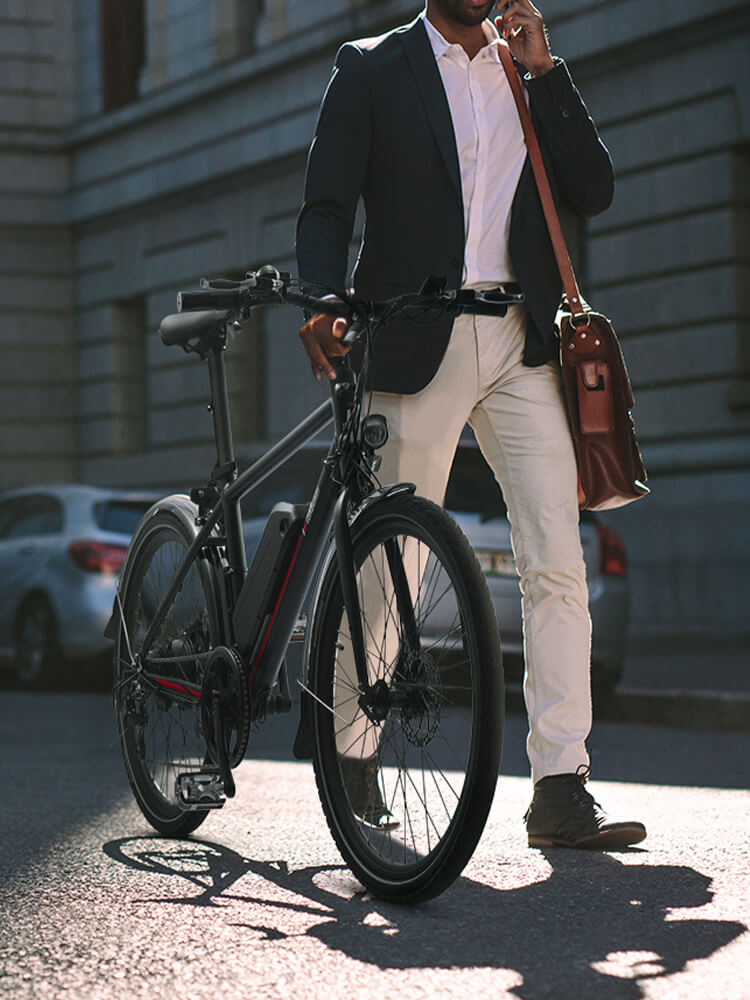 Your City
Commuting Solution
With the best uphill-climbing performance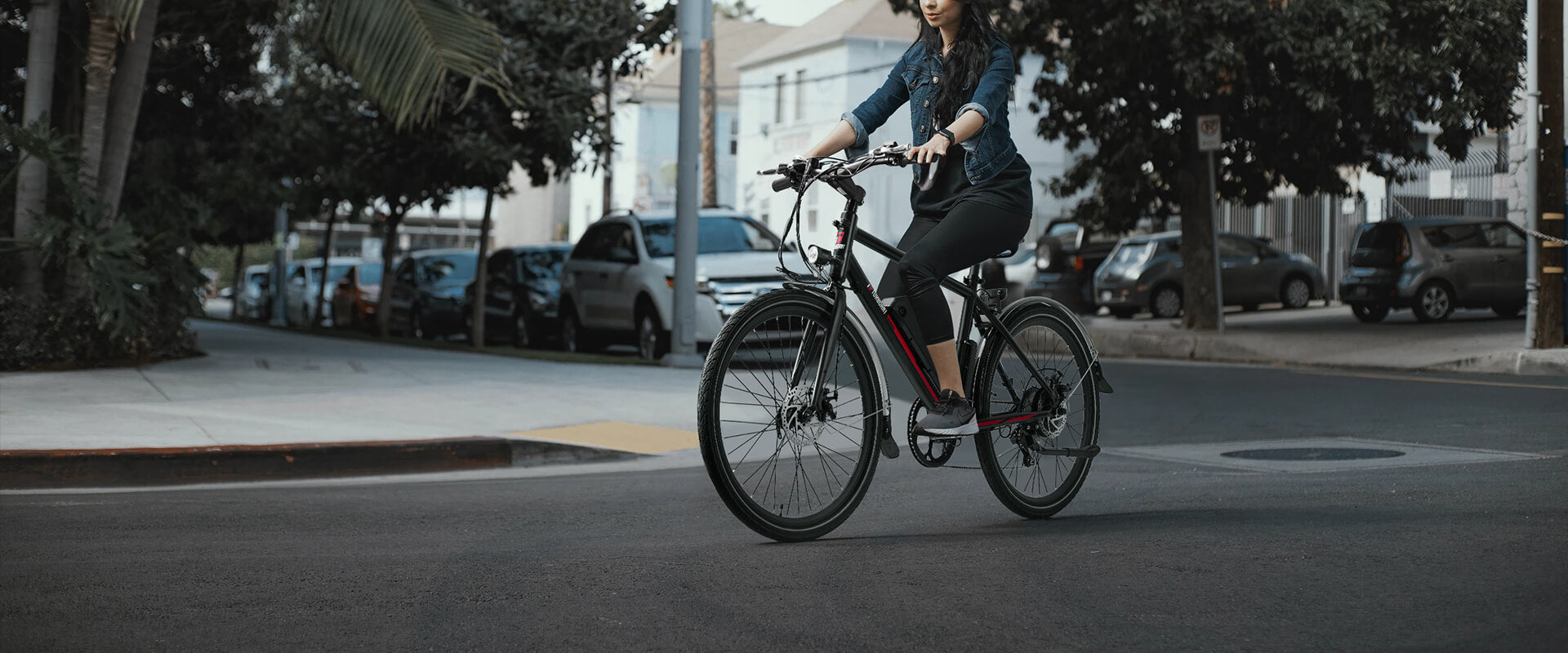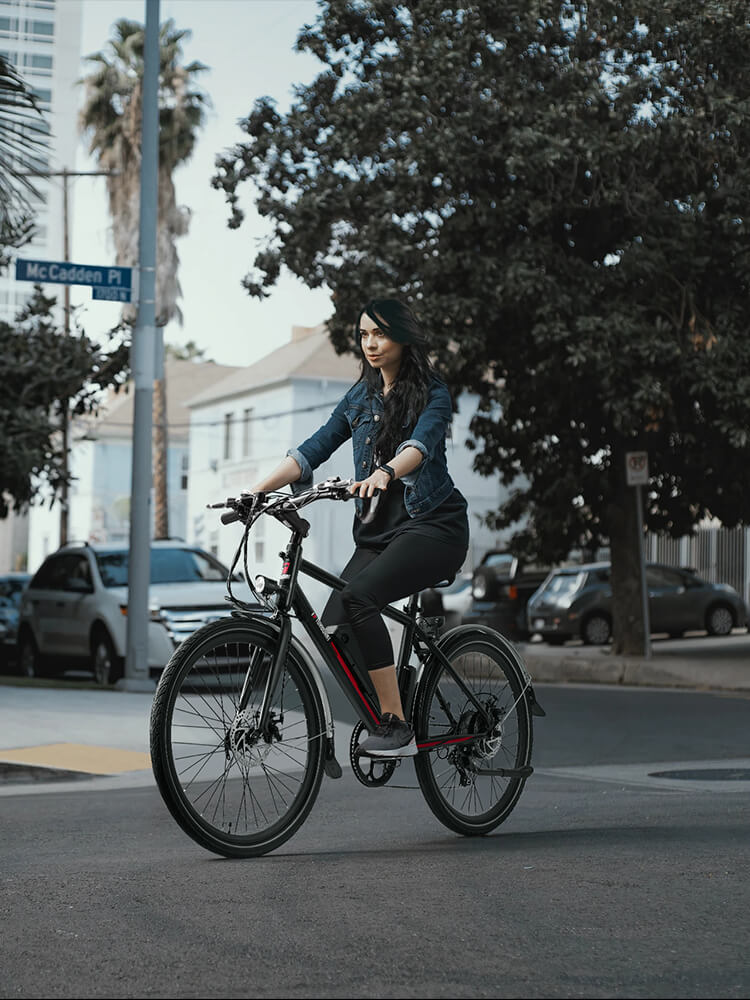 55 Nm Torque

Easy Climbing

28 mph

Top Speed

60 Miles

Max Range

30% Lighter

Easier Transportation

Strong Tires

Puncture-Resistant

5'3"/ 330 lb

Min. Height/ Max. Payload
A FASTER-THAN-DRIVING
RUSH-HOUR PLACID JOURNEY
WITH
RANGER R1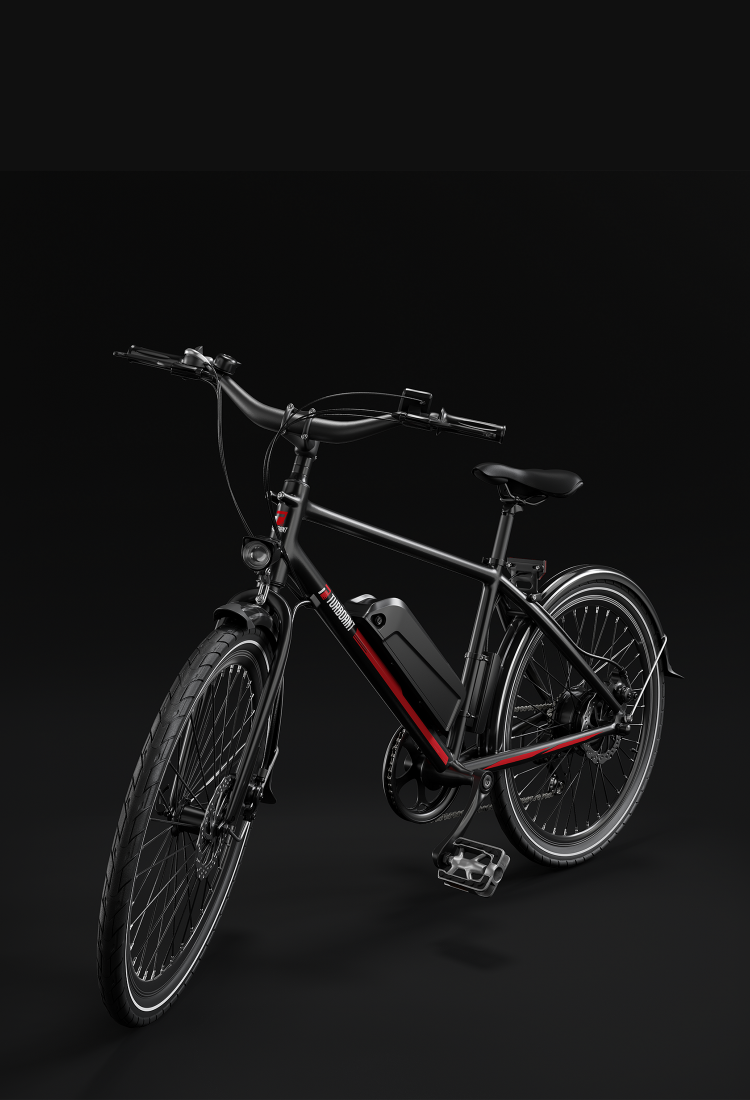 SOLID PERFORMANCE-ENHANCING FEATURES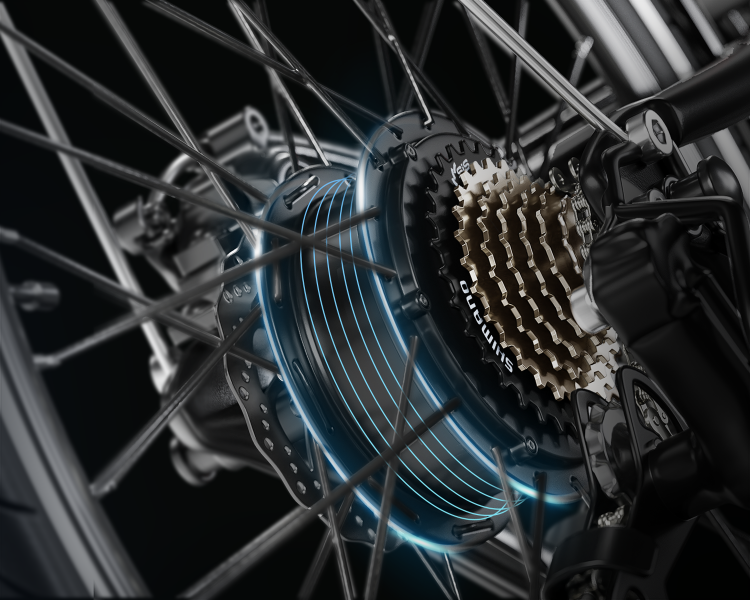 55 Nm Torque 500 W Hub Drive Motor
Quick acceleration with little plodding even on inclines.
SOLID PERFORMANCE-ENHANCING FEATURES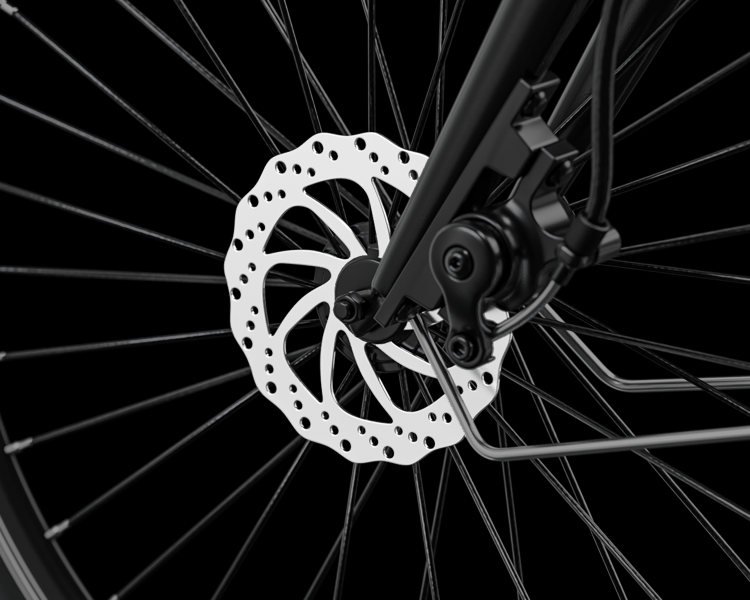 Tektro 6.3-inch Disc Brake
Upgraded system for less fatiguing and smoother braking.
SOLID PERFORMANCE-ENHANCING FEATURES
Multiple Riding Options
Throttle-only mode plus 3-level pedal assistance.
SOLID PERFORMANCE-ENHANCING FEATURES
Shimano 7-Speed Derailleur
Easy changes through the gears for more enjoyable rides.
WORRY-AND-HASSLE-FREE RIDING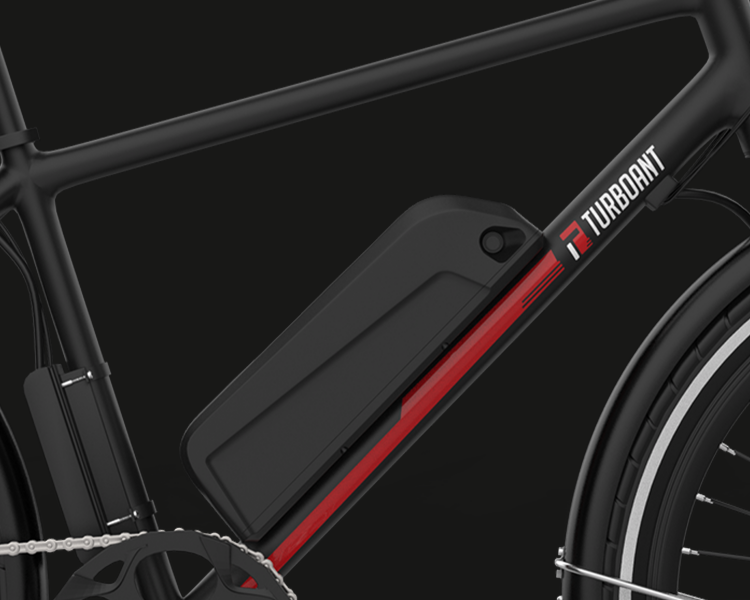 Vehicle-Grade Battery Cell
Forms a battery pack with an outstanding performance.
WORRY-AND-HASSLE-FREE RIDING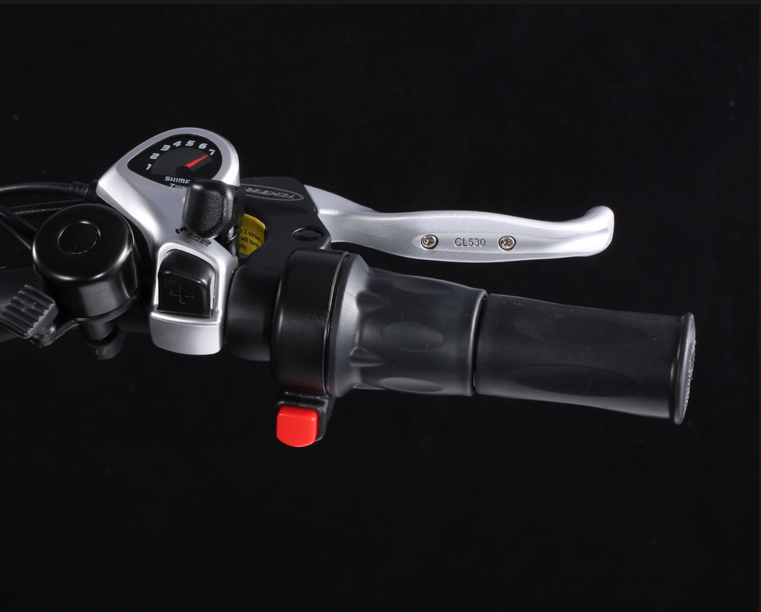 Throttle Safety Button
Temporarily locks the throttle to avoid accidental acceleration.
WORRY-AND-HASSLE-FREE RIDING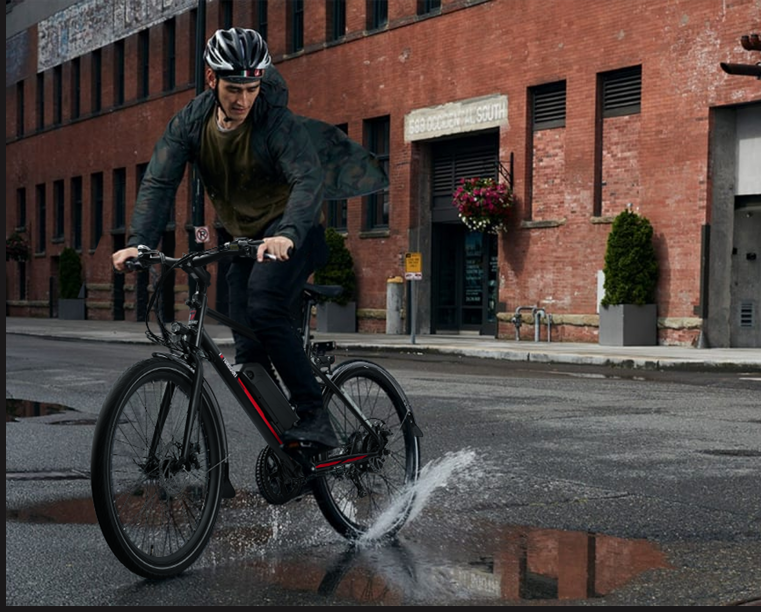 IP65 Protection
Resists water damage and allows for worry-free riding.
WORRY-AND-HASSLE-FREE RIDING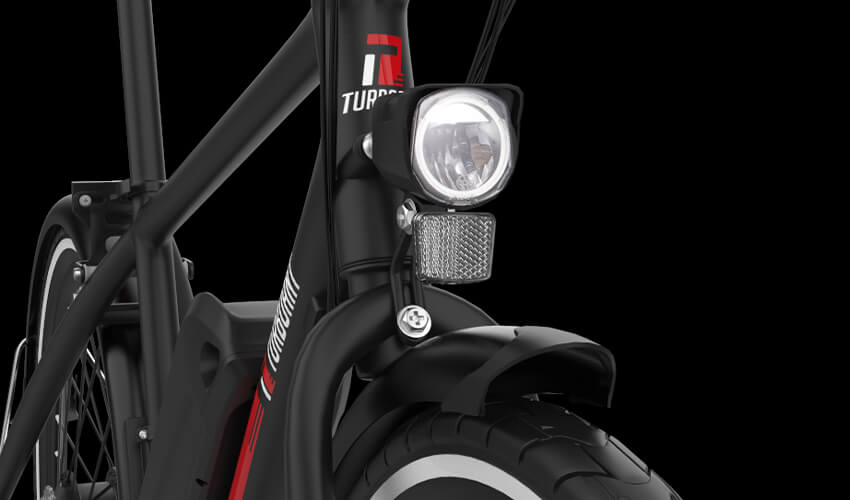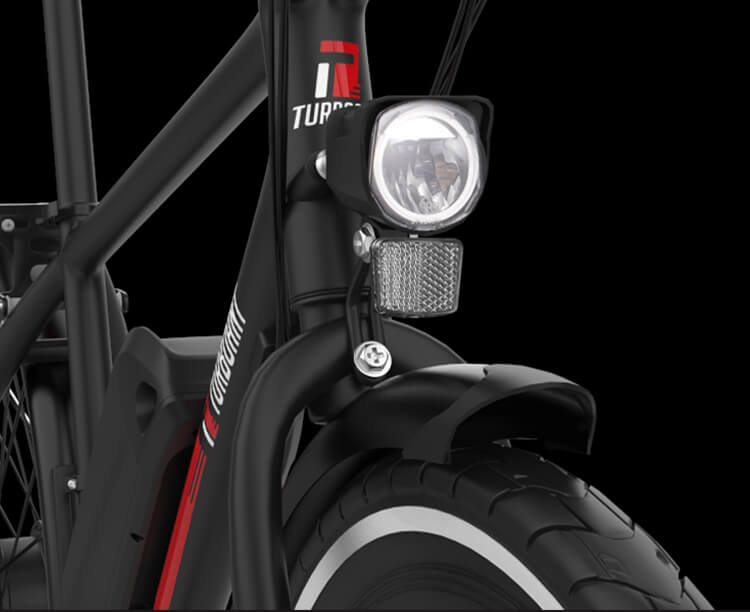 Lights with Good Illumination
An angle-adjustable headlight and a highly visible rear light for safer night rides.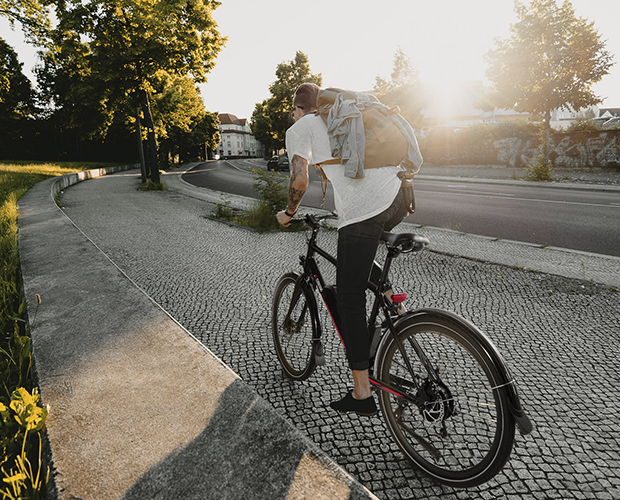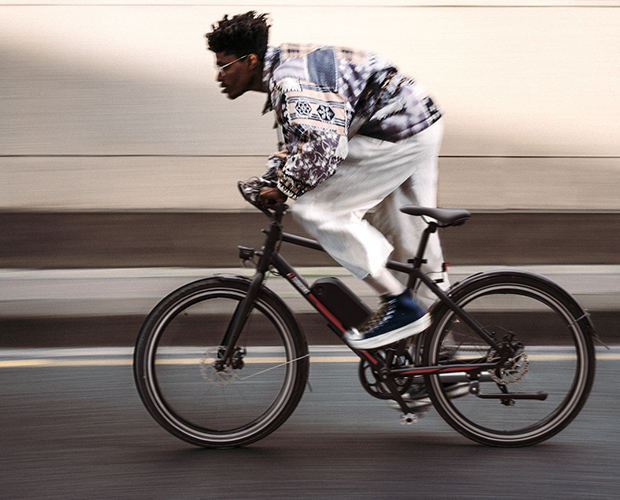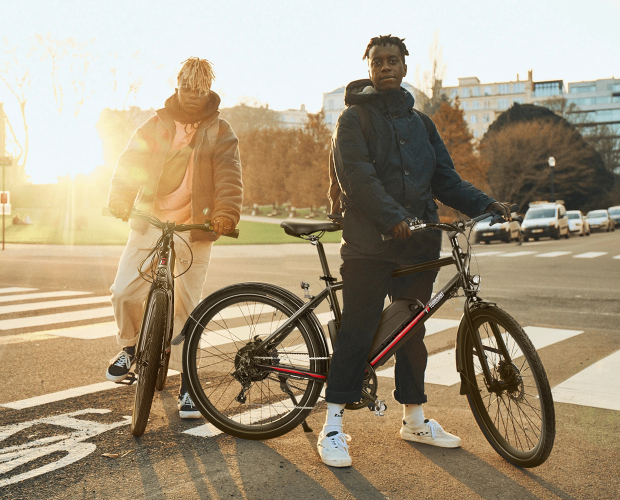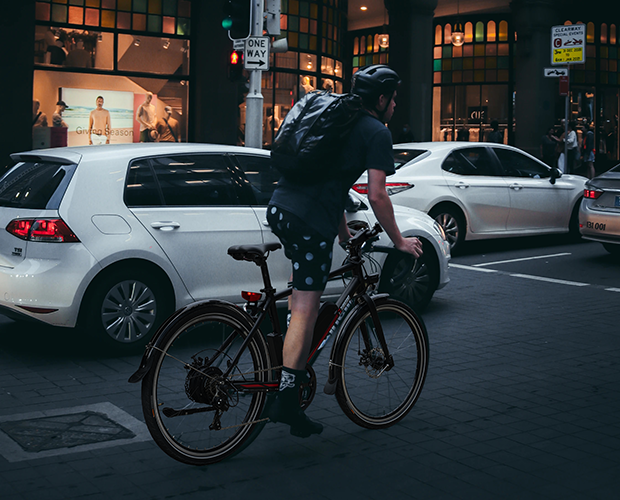 Specifications
| | | | |
| --- | --- | --- | --- |
| Hub Motor | 500 W Brushless Gear Motor | Rider Height | 5'3"- 6'4" |
| Lithium-Ion Battery | 48 V 13 Ah | Controller | 48 V 17 A |
| Charger | 48 V 2 A | Display | LED Display |
| Max. Payload Capacity | 330 lb (150kg) | Weight | 51.8 lb (23.5 kg) |
| Range | 35-60 Miles (56-97 km) | Pedal Assistance | 3 Levels (Low, Mid, High) |

Tires
Kenda 26" x 1.95'' city style with reflective strip
Front Fork
Integrated steel fork
Brake lever
Tektro aluminum alloy comfort grip lever
Throttle
Half twist throttle with on-off switch
Rear Light
Brake taillight 
Pedal
Alloy pedal with reflector city type
Freewheel
Shimano freewheel
Bike Frame
Aluminum alloy 6061
Brake
Tektro Aries brake (6.3 in/160 mm) 
Front Light
48 V LED light with waterproof cable
Chain
KMC chain
Saddle
SR-A020H
Stem
ZOOM 155
Seat Post
Diameter 1.2 in/30.4 mm
Length 13.8 in/350 mm
Crank
52T aluminum plastic (6.7 in/170 mm)
Kickstand
Aluminum alloy
Gearing
Shimano 7-speed derailleur
Spokes
12-gauge stainless steel

Note: Bicycle components may differ from what has been listed, but high-standard quality has been ensured all the time.




| | |
| --- | --- |
| Total Length | 71.7 in (182 cm) |
| Handlebar Height | 41.3 in (105 cm) |
| Wheelbase | 44.3 in (112.5 cm) |
| Minimum Seat Height | 28.6 in (72.5 cm) |
| Maximum Seat Height | 36.5 in (92.5 cm) |
| Standover Height | 29.1 in (74 cm) |
| Top Tube Length | 20.9 in (53 cm) |

Quick Release Lever

Fender x 1

Front Wheel x 1

Headlight x 1

90% assembled E-bike

Assembly Toolkit x 1

Keys x 2

Pedals x 2

Charger x 1

Note: The e-bike shown has been completely assembled. You will receive a 90% preassembled e-bike and will need to install the front wheel.

How far can I go on a single charge?

This TurboAnt e-bike has a range of up to 60 miles if you fully charge the battery. However, the actual range depends on various factors such as terrain types, wind, and load. We recommend you follow riding instructions in the user manual to maximize your riding range.

Is this battery removable?

Yes. You can take out the battery for charging or storage. Please be careful when removing this battery from the bicycle frame in case of damage. For details, please refer to the user manual.

What is the lifespan of the battery?

This battery has a lifespan of 3 years. However, its lifespan will be influenced by various factors such as charging operation, riding habits, and battery maintenance. It's strongly recommended that you follow the user manual for battery operation and maintenance.

How long does it take to fully charge the battery?

A full charge takes up to 7 hours. You can read the LED lights to check the battery level when the battery is being charged.

Which terrain type is suitable for this e-bike?

TurboAnt Ranger R1 is made specially suitable for city riding, and it is especially outstanding for its powerful climbing performance. Therefore it is recommeded to be used on city roads and some gravel roads.

Can this e-bike be folded?

TurboAnt Ranger R1 is not a folding e-bike. We would recommend TurboAnt S1 if you're looking for a folding electric bike.

Can this e-bike still function as a regular bicycle when the battery runs out?

Yes. If the battery dies, you can still ride this e-bike as a normal bicycle.

How does this e-bike reach its maximum speed?

This e-bike can reach a maximum speed of 20 mph when only using electrical power. However, by using the pedal assistance, it can easily exceed 20 mph and can even reach speeds of up to 28 mph when using the highest pedal assistance level.

How can I get the best milage out of the e-bike?

Take the following measures listed below to reduce negative impact on milage:
1. Inflate the tires to the specified pressure.
2. Avoid frequent braking during your ride.
3. Use more pedal assistance and less throttle power.

How do I remove and install the battery?

Unlock the battery by turning the key counterclockwise.
Remove the battery from the frame, starting from the bottom.
Reinsert the battery into the frame, starting from the top. Make sure the ends of the battery are properly oriented.
Lock the battery in place by turning the key clockwise.

Note:  An audible click will be heard when the battery is properly installed.

How do I install the pedals?

Know which pedal is marked with a "R"or "L" at the pedal axle end. "R" refers to the right pedal and "L" the left pedal.
Carefully thread each pedal onto its appropriate crank set.
Turn the right pedal clockwise with the 16/18# wrench, and turn the left pedal counterclockwise. Do not damage, strip, or cross threads.