Xiaomi M365 Pro Electric Scooter Review 2020
Introduction
The Xiaomi m365 Pro is among the best scooters, and it has a lot to offer at a pocket-friendly price. Besides, the much it has to offer its environment friendly has no additional cost in terms of fuel, and the maintenance costs are also minimal. It a very easy-to-use scooter; you only need to recharge it and go out on a ride.
Besides the pocket-friendly aspects, Xiaomi mi m365 Pro offers a powerful motor and battery, a comfy ride, and all the safety features that an electric scooter has to offer. Below we shall look at an overview of this scooter, its features, the pros and constraints, and finally, the best alternative which covers for its limitations.
Overview of Xiaomi M365 Pro Electric Scooter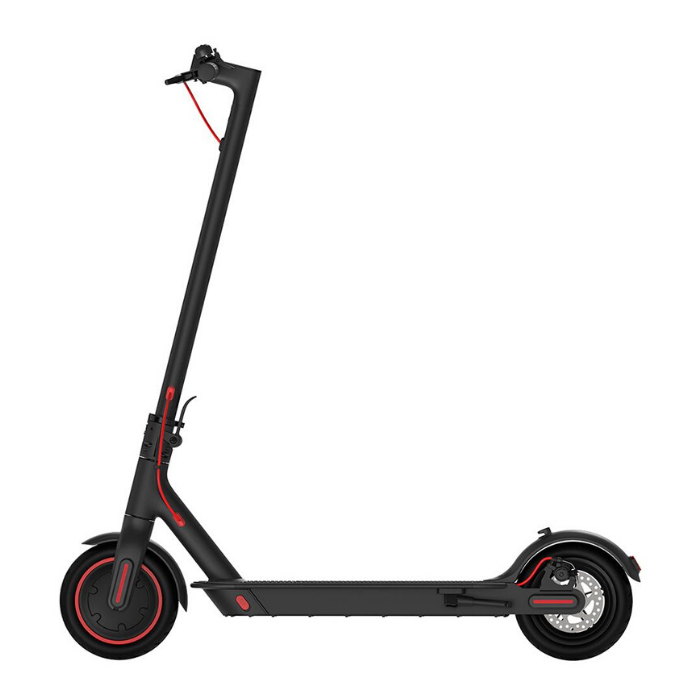 The Xiaomi scooter M365 Pro is among the popular scooters, and this is because of the different features that you will not find in a regular scooter. We shall look at a brief overview of the same and a detailed, in-depth description of its key features below.
Among the best features that the Xiaomi mijia m365 Pro has to offer include its powerful motor and lithium-ion battery, which produces efficient power to run the scooter. The LED lights in the front and back of the scooter for safety and use at night. It has a maximum speed of 15MPH and on full charge, a mile range of 25 miles. It has pneumatic tires that offer a comfy ride and rear fitted brake system which is operated on the front handlebar.
Xiaomi M365 Pro Electric Scooter Key Features
It weighs 31lb and can support weight loads of up to 220lb.
Its maximum speed is 15MPH.
It has 8.5-inch pneumatic tires.
It has an LED digital display.
The mile range on full charge is 25miles.
It is powered by a 474watt lithium-ion battery 300 watts motor.
It has rear and front LED lights.
It has a front brake operating system which is regenerative and rare braking system with a mechanical disc.
Xiaomi M365 Pro Electric Scooter Pros and Cons
The Xiaomi M365 Pro has its pros and constraints as listed below:
Pros
It has an impressive acceleration which is 0 to 15 MPH in just 3 seconds.
The height and material of its tires give the commuter a smooth ride regardless of the cruising terrain.
It's foldable hence making it easily portable.
It's lightweight and can support a good weight load.
It charges faster, which reduces the charge time to full charge.
It built-in a sleek design, and its materials are durable.
It's versatile and can be used in any weather, terrain and even at night.
Cons
It has no suspension system.
It won't serve you well in steep slopes.
It only suitable for teenagers above 16 years.
It cannot be used for commuting long distances.
Best Alternative to Xiaomi M365 Pro: TURBOANT X7 Pro
TURBOANT X7 pro is the best alternative to the Xiaomi M365 Pro because it has better features and covers for most of the constraints associate with its counterpart. Below are its features and a comparison why we deem it the best alternative.
Key features:
Its top speed is 20 MPH.
It is powered by a 36V, 10Ah battery and a 350 watts motor.
It has an LED headlight.
It has a mile range of about 30 miles on full charge.
It has 10-inch pneumatic tires.
It is fitted with an LED display to monitor different scoter settings, power, and real-time speed.
It's foldable and has a rear fitted brake which is front operated.
Its net weight is 33lb, and the maximum weight load is 275lb
Why it's the Best Alternative
Top speed
The TURBOANT X7 pro has a top speed of 20 MPH while the Xiaomi m365 Pro has a top speed of 15 MPH. The commuter, therefore, can travel long distances with a short time. TURBOANT X7 pro, therefore, can be used for long-distance commuting.
Power
TURBOANT X7 Pro is powered by a 350 watts motor and a 36 V, 10Ah battery, while the Xiaomi m365 Pro is powered by a 300 watts motor. This gives the TURBOANT X7 pro more power, and it can, therefore, can be used to commute in sloppy areas.
Weight
The TURBOANT X7 pro's net weight is 33lb and can carry a maximum weight load of 275 lb. on the other hand, the Xiaomi m365 Pro has a net weight of 31lb and can support a maximum weight load of up to 220lb. While the Xiaomi can support lighter weight loads, its alternative has a better and heavier option. Adults can use it for commuting with fewer limitations to how much they weigh.
Mileage
The mile range on a fully charged battery for the TURBOANT X7 pro is approximately 30 miles while that for Xiaomi m365 Pro 25 miles. Therefore, the TURBOANT electric scooter can travel a longer distance before the battery requires recharging. This makes it suitable for commuters with long distances to cover, unlike the Xiaomi, which is limited to short distances.
Tires
Both have pneumatic tires, but the difference comes in the inches whereby the TURBOANT X7 pro has 10 inches tire, and the Xiaomi mijia m365 Pro has 8.5 inches tires. This translates to a more comfortable cruise for the commuter using larger tires.
Conclusion
In conclusion, the Xiaomi mi m365 Pro would be a perfect choice for users who commute on a daily basis. This is because it comes at a pocket-friendly price, offers the best features for an average user, and, most importantly, it environment friendly. Despite the average features it has to offer as a user, you still get a very powerful performance.
Users' looking to upgrade from the Xiaomi scooter because of its few constraints and better service, the TURBOANT X 7 pro is the best alternative. This is because it covers the limitations and has a better performance.