Everything You Need to Know About Electric Hybrid Bikes + How to Pick the Best Electric Hybrid Bike
If you have been driving a conventional bike for a while and would like to step it up a little, then you can consider getting an electric hybrid bike. As the name suggests, electric hybrid bicycles can truly have the best of both worlds: the comfort of a conventional bike and the power of an electric bike. Without much ado, let's get to know more about hybrid e-bikes and learn how to pick the best electric hybrid bike.
What is an Electric Hybrid Bike?
While conventional bikes are considered more comfortable and rugged, electric bikes are just more powerful due to the presence of a motor and a battery. Therefore, in electric hybrid bikes, you can access features like an inbuilt motor to power it and a battery for pedal assistance. Even though it would not have all the advanced features of an electric bike, it will make it a whole lot easier for you to ride your hybrid bike on all kinds of terrains and for hours without getting tired.
3 Major Types of Electric Hybrid Bicycles
Although we can classify electric hybrid bikes based on different parameters, they are mostly categorized on their usability:
Most of the hybrid e-bikes are off-roads as they can easily be ridden on all sorts of terrains. A modified eMTB electric hybrid bike can be preferred with wide tires and a powerful motor.
Urban Electric Hybrid Bicycles
If you want something for your daily commutes, then you can buy a lightweight hybrid folding electric bike. These bikes are pretty comfortable and have lasting batteries, making them ideal for city roads.
Versatile Recreational Hybrid E-bikes
These are the types of electric hybrid bicycles that people take for leisure trips or weekend getaways. You can ride them in urban or rural terrains easily due to their versatile configuration.
Why Should You Buy an Electric Hybrid Bike?
From being diverse to powerful, here are some of the key benefits of electric hybrid bicycles, making them so popular these days.
As I have listed above, you can get an electric hybrid bike for all kinds of terrains to meet every requirement of yours. These days, hybrid e-bikes are available in several categories like fat tire, off-road, urban, folding, and more, making them super-versatile.
With one quick market search, you can find lightweight or heavy load hybrid e-bikes. Not just that, you can also get a hybrid electric bike for kids. Therefore, from adults to kids, everyone can get the best electric hybrid bike to meet their overall needs.
Ahead of Conventional Bikes
Compared to a standard bike, a hybrid e-bike would be far more advanced. The dedicated motor and battery will make your rides a whole lot smoother without getting tired, which is not the case with conventional bikes.
Cost-effective and secure
When it comes to overall security, electric hybrid bicycles are considered safer. Also, you can use a hybrid folding electric bike to meet your daily commuting needs that can save a lot of money in the long run.
How to Pick the Best Electric Hybrid Bike?
Since there are so many options for hybrid e-bikes out there, you can consider the following things in mind while picking the best electric hybrid bike.
Consider your requirements
At first, you should consider your overall requirements for picking an electric hybrid bike. For instance, if you are getting a hybrid electric bike for kids, then you need to think of the bike's security. Similarly, you should know whether you want to take the bike for off-road hikes or whether a hybrid folding electric bike should be bought for those daily commutes.
Check its Efficiency (Motor and Battery)
Ideally, the hybrid e-bike's motor and battery are the two most important things that you need to check. Getting an electric hybrid bike with a motor of at least 500W would be ideal in most cases. Also, it should have minimum 12 Ah battery power so that you can take it for a ride of at least 30-40 miles without any hassle.
Test its Safety and Security Options
Another thing that you need to consider is the overall security features that are equipped in the bike. For instance, while picking the best electric hybrid bike, you should check its suspension, rear/front brakes, backlight, front LED, indicators, and other safety features.
While most electric hybrid bicycles are quite user-friendly, make sure that you check their front panel and other features (like pedal assist). If you are new to riding e-bikes, then make sure to take it on a test drive and understand its functioning in advance.
Besides that, the electric hybrid bike that you are interested in should be comfortable and diverse. You can also check its suspension, consider your overall budget, customer feedback, warranty, and other vital things before picking the best electric hybrid bike.
Editor's Pick: Turboant Thunder T1 Fat Tire E-bike
Considering all the above things in mind, I would recommend Turboant Thunder T1 as the best electric hybrid bike that you can get on a budget. Not only is this fat tire bike powerful, but it is also extremely versatile, making it ideal to be ridden on every terrain.
The electric hybrid bike is powered by a 750-watt brushless motor, letting us ride the bike at the maximum speed of around 20 miles per hour.
The electric bike is equipped with a 14 Ah Li-Ion battery that can be charged in 3-6 hours and can go on to up to 60 miles.
The bike also has 26 by 4-inch-wide puncture-resistant tires with K-shield technology so that you can ride it on all terrains effortlessly.
Some other advanced features of Turboant Thunder T1 are a 7-gear Shimano thumb shifter, theft-prevention design, in-frame charging, and a 5-level pedal assist display.
Turboant Thunder T1 Fat Tire Electric Bike

Motor: 750W Brushless

Tires: 26 by 4-inch puncture-resistant

Battery: 48 V 14 Ah Samsung Li-Ion

Transmission: 7-speed Shimano Derailleur

Max load: 264 lbs.

Max speed: 19.9 mph

Average range: 40-60 miles

Charging time: 3-6 hours

Buy Now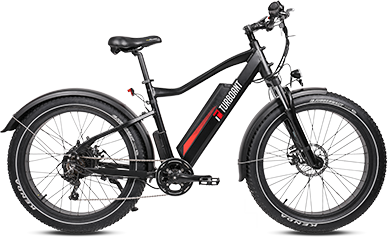 Now when you know the diverse use of an electric hybrid bike, you can easily get one to meet your commuting or recreational needs. Besides listing their benefits, I have also provided some expert tips on how to pick the best electric hybrid bike. You can further explore the available electric hybrid bicycles in the market or even try a reliable bike like Turboant Thunder T1 as a perfect versatile hybrid electric bike.