Different kinds of bicycles are built for use on different kinds of roads or terrains. The TurboAnt Thunder T1/Nebula N1 Fat Tire Electric Bike for example is meant to tackle all kinds of terrain while the TurboAnt Ranger R1 Electric City Bike is built for commuting within the city. However, it does not mean that you cannot own and use your favorite bike because you don't have the right place to ride it.
Whether you fancy a manual or electric bike, you should be ready to select from a wide variety of options that are presented by various brands. With so many choices in the market, choosing the right bike is not easy unless you know exactly what you are looking for. At the end of this read-up, you should be able to understand which bike will work for you.
All-Terrain Bike
An all-terrain bicycle is considered much of a sports bicycle that can be used for adventurous rides off-road and along sidewalks as well. In simple terms, this is the kind of bike that can be used on any kind of terrain. A good example of an all-terrain bicycle is the mountain bike. These bikes usually have certain features that make them rigid enough to handle different kinds of roads.
Since they are meant for both smooth and rough roads, all-terrain bikes have enhanced brakes and tires for better performance. The tires have a good contraction and are designed to get grip from all sorts of surfaces. There are so many types of terrain bikes in the market and each brand has its special features. The more expensive a terrain bike is, the more features it is expected to possess.
All-Terrain Bikes Pros
All-terrain bikes are much faster and when it comes to gears, they tend to have more speed. Their purpose requires them to have special features that you will hardly find on a regular bicycle. Since you are likely to be riding your bike off-road, comfort becomes an important factor. For that reason, all-terrain bikes are some of the most comfortable. Most all-terrain bikes are heavy and that is one of the main disadvantages of all-terrain bikes.
City Bike
These are bicycles that are designed for running errands within short distances on smooth roads. Unlike all-terrain bikes, city bikes are less rigid since they are built with utility in mind. City bikes are meant to be easy to ride since they are mainly used for short commutes. A commute electric bike can be a simple one-speeded bicycle without a lot of power. Although they are less sophisticated, city bikes are quite heavy. However, this does not mean that they are slow or less efficient in any way.
City bikes are also available in a wide variety and the better the features, the more expensive they will cost. It will be helpful to know that city bikes are designed to provide an upright posture when riding. That is meant to give the rider a better view of the streets and while it sounds like a good idea, riding uphill may prove to be impossible with the upright position and weight of the bike.
City Bikes Pros
Since city bikes are meant for you to be seen with, they are generally attractive when it comes to their design. On top of that, they offer a much comfortable ride and you can use it to run your errands for long hours without getting exhausted faster. You don't need special riding clothes for your city bike as you can wear anything. That means, it is the ideal bike for going to work or getting groceries. City bikes are also durable since they usually aren't exposed to extreme riding conditions. Their downside is that they are slower because they are a fat tire bike which also makes them heavy.
What Are the Main Differences between All-Terrain Bikes and City Bikes?
One of the main differences between an all-terrain bike and a city bike is how each type of bike is built. As already discussed, all-terrain bikes are designed to be much tougher and usable even on muddy roads. This calls for these bikes to be built with stronger metals and other features like suspension mechanisms to provide a comfortable ride. The city is decorated with sidewalks and pavements and some cities even have special roads for bicycles. As much as some city bikes are built from tough materials and weigh heavier, they are not designed for heavy-duty riding.
Another notable difference between these bikes is the gears and braking systems. You will realize that most city bikes have basic braking and gear systems. That is because they are not expected to be seen along mountain steeps. The fact that city bikes are fully designed for flat and smooth roads makes the simple gear and brake system efficient. On the other hand, all-terrain bikes have more sophisticated brakes and gears.
It is important to note that there are different bike models and each brand has something to offer. When buying an all-terrain or city bike, you will want to pay attention to the shape and other specific features like if the bike you are about to buy have a suitable weight and height limit.
How to Buy An All-Terrain or City Bike
Buying a bicycle is one of the easiest things to do in this technological era. There are plenty of online and real stores that where you can buy original bikes without any worries. Nevertheless, manufacturers today sell directly to customers online. Always ensure that you deal with a legit dealer when shopping for the best budget electric bike or any other bicycle. That is because there are a lot of counterfeit sellers in the market who are not shy to rip you off.
Conclusion
Knowing the difference between an all-terrain bike and a city bike should help you know what you should get for how and where you want to use your bike. It is also important to know that bikes require regular maintenance and repair. Therefore, you will want to have basic bike repair tools just in case you want to tighten or lose a part.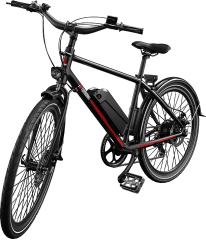 Ranger R1 Electric City Bike
$1,299.00
Swift S1 Folding Fat Tire Electric Bike
$1,799.00